Hot trends in home decorating in the late 19th century were parlor organs and hall stands. These objects are rarely seen in 21st century homes.  But both symbolize something that modern home buyers on popular television shows declare is a "must have." Home buyers, then and now, demonstrated their social status with a dedicated "space for entertaining."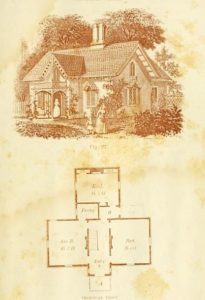 One hundred and fifty years ago, affluent home-buyers wanted large homes with a front hall for welcoming guests and a parlor and dining room dedicated only to entertaining. These rooms and their contents represented the middle or upper-class status of the family in the new industrialized economy.  These homes were starkly different from older and smaller working-class homes were more people shared much less space. Today, the same is true. Larger homes represent larger incomes and contain more specialty rooms – home theaters, craft rooms, game or play rooms, or man caves.
Select each image for more information.
Special rooms require special furnishings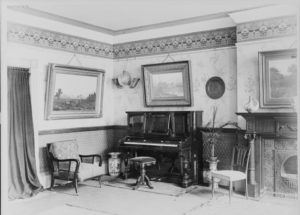 Specialized furniture and decorations were marketed to fill these new spaces. A hall stand or hall tree was needed for the coats, hats, and umbrellas of guests. Elaborate hall tables held card receivers for the visiting cards of respectable upper and middle-class people Nineteenth century parlors required upholstered chairs and sofas, large musical instruments like pianos and organs, decorative pictures, curtains, and carpets.  Parlors equipped with an organ or piano demonstrated the family could afford to purchase a large musical instrument, had the leisure time to enjoy it, and the culture and education to play it. Before the nineteenth century, pianos and organs were hand-crafted items and affordable only to the wealthy. As mass production methods produced more affordable parlor organs and pianos, these musical instruments became middle class status symbols.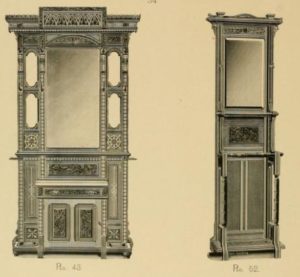 By the 1920s, hall stands had fallen out of style. The peak year for piano sales was 1909 but sales continued to be strong through the 1970s. Today, old pianos are unwanted clutter destined for the dump. Parlors have also fallen out of favor. Entry halls are omitted from many modern home plans. But we still define our social status through our homes and their furnishings.
"Everything we do has social meaning."
"Our childhood, family life, income bracket, and concurrent social circles teaches how to go about our lives and interact with the world in big and small ways. Through both behaviors and material goods, we disclose our socioeconomic position, whether we like it or not." says Elizabeth Currid-Halkett in The Sum of Small Things: A Theory of the Aspirational Class (2017)         But the objects or actions that convey social status change over time.
In the Classroom
Ask students to consider how consumer goods define our lives and social status. Have them peruse the pages of home furnishings in old catalogs and brainstorm what modern home goods have replaced those offered to shoppers one hundred years ago.
Archive.org is a wonderful resource for historical home furnishings catalogs. The Sears Roebuck and Montgomery Ward catalogs were the late 19th and 20th century equivalent of the mega online shopping retailers of today.
As students explore how consumer goods for the home have changed, ask them to consider how the furnishings of a home represent socioeconomic status.  The objects in our homes may have changed, but the desire to own objects that define us is very much the same.
For more  . . .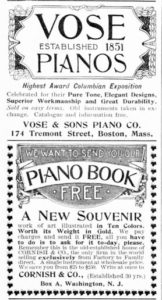 Investigating Family, Food, and Housing Themes in Social Studies has more history, classroom ideas, and primary source texts and images for using housing as a theme in the classroom.
For more about 19th century furnishings and their meanings,  read Death in the Dining Room and Other Tales of Victorian Culture by Kenneth L. Ames.