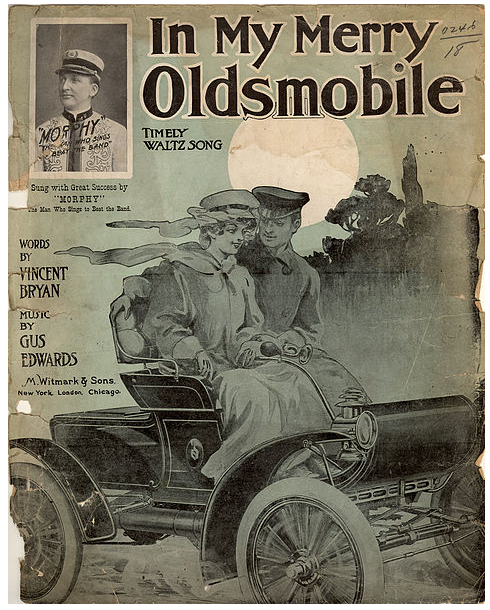 New technology often calls for new forms of behavior and new manners. The shift from courtship to dating in the late 19th and early 20th century is often associated with a new kind of technology that allowed couples privacy away from their families – the automobile.
The 1905 song In My Merry Oldsmobile reflects this connection between dating, the car, and what was considered proper and improper behavior.
Yes, the song was risqué for the time!
---
The words, as sung by Billy Murray:
Verse 1
Young Johnny Steele has an Oldsmobile
He loves his dear little girl
She is the queen of his gas machine
She has his heart in a whirl
Now when they go for a spin, you know,
She tries to learn the auto, so
He lets her steer, while he gets her ear
And whispers soft and low…
Verse 2
They love to "spark" in the dark old park
As they go flying along
She says she knows why the motor goes
The "sparker" is awfully strong
Each day they "spoon" to the engine's tune
Their honeymoon will happen soon
He'll win Lucille with his Oldsmobile
And then he'll fondly croon…
Chorus
Come away with me, Lucille
In my merry Oldsmobile
Down the road of life we'll fly
Automobubbling, you and I
To the church we'll swiftly steal
Then our wedding bells will peal
You can go as far as you like with me
In my merry Oldsmobile.
---
These lantern slide images (c. 1907) illustrated the song. A lantern slide was an early form of a slide projector, often called a Magic Lantern. For more about lantern slides click here.