Travel Ephemera
Visit local library and university archives for travel ephemera from your community or start your own collection. Here are a few examples from my collection, a friend's collection, and from my university's archives.
---
Library of Congress Digital Primary Sources
Search the Library of Congress "Photos, Prints and Drawings" using keywords "vacation", "resort", "beach", "vacation cartoons", the names of specific vacation destinations,  etc. for hundreds of images. Here are just a few examples.
---
Road maps are excellent primary sources for vacation themes and making connections between the disciplines of history and geography.
Below are a few recommended resources: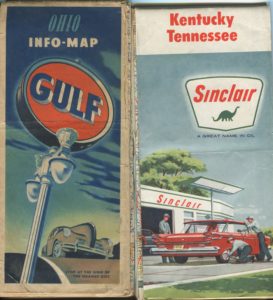 Road Maps as History

, Osher Map Library/ Smith Center for Cartograhic Education.
This is just one section in an excellent text and image exhibition relating to maps. Include a section for teachers.
Yorke Douglas A. and Margolies, John. Hitting the Road: The Art of the American Road Map, 1996.
This short book features numerous color reproductions of road maps and is a good resource for primary source images. This book is one of several by

John Margolies

that features images of travel brochures, motels, attractions, and road signs related to American vacations.
---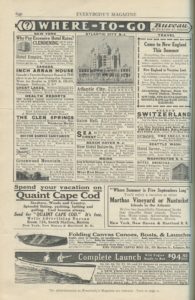 Travel advertisements offer insights into vacation choices and trends of the era. Note the variety of vacation destinations advertised 1912 – health resorts offering hydrotherapy and electricity treatments, destinations for fishing and boating, or shopping, shows and dining. (Click on the image to enlarge)
Old magazines are a great resource and many from the late 1800s and early 1900s are available online.
Everybody's Magazine – Published 1899 – 1929
McClure's Magazine – Published 1893 – 1929
Munsey's Magazine – Published 1889 – 1929
---
Watch Coney Island, a 1917 silent film set in the famous New York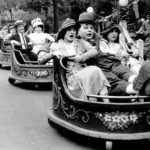 amusement park.
---
About the header image: Bathing on the Beach, photograph taken between 1909 and 1932
Library of Congress