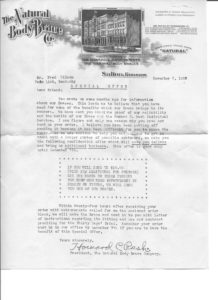 What are ephemera?  Ephemera are everyday documents that are usually discarded – tickets, calendars, advertisements, cards, etc. Ephemera are excellent primary sources for the classroom! These items can help tell the story of an individual or a family. These primary sources also tell a larger story about the history of hobbies, leisure, advertising, or about changes in technology and communications. Below are a couple of examples from my collection. This letter and brochure were use for direct mail marketing in 1929. I also have the original envelope with stamps and postmark.
Ephemera as a Classroom Primary Source
How can these throwaway items from the past be used in the classroom? Students could compare and contrast how items were advertised and marketed in the 1920s and today (changes in technology) and analyze the claims made by advertisers about their products (techniques of marketing and persuasion). Note that addresses in the 1920s were much simpler – students can research the history of the postal service in the United States and when and how zip codes were introduced, and how electronic communications are changing the way we live today.

Start your ephemera primary source collection today!
For more about ephemera – see the following:
The Ephemera Society of America
An American Time Capsule: Three Centuries of Broadsides and Other Printed Ephemera at the Library of Congress