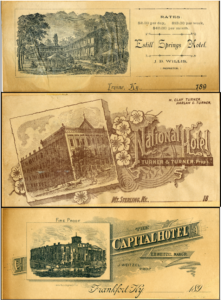 Your local library, historical society, or university archives is a treasure trove of primary sources from your community – letters, diaries, scrapbooks, photographs, local publications, and all sorts of other ephemera. In most cases, these local institutions are thrilled to work with teachers developing place-based lessons. The staff will know about local history and have primary sources that you didn't even know existed.
These hotel advertising cards, all from the late 1800s, are from a scrapbook in Eastern Kentucky University's Archives. The scrapbook was created by French Tipton (1848 – 1900), a Richmond, Kentucky editor, lawyer, judge, IRS Revenue Agent, and journalist. These hotels existed in an era when railroads were the primary form of transportation for long distance travel. Hotels were located close to the railroad depot, instead of the interstate highway exit.
Teachers can create place-based education mysteries for students to solve. Do these businesses still exist? If not, are the buildings still there? If so, how have they been re-purposed? What changes in American vacationing, travel, and transportation caused them to close? Be sure to connect these wider trends to the present – why do businesses, like hotels, close in the 21st century?
Sanborn maps are valuable resources for locating old business in your town. These maps were created to assess fire insurance liability in towns and cities in the United States from 1867 to 2007. When you visit your local library, historical society, or university archives, ask for the historic Sanborn maps for your town. Many are also available on the internet.